Now you can create over 100 million faces like mine instantly
Make Masks for Parties and Halloween

Make 'em Laugh is delighted to announce our newest product "FunnyFaces"! If you have a Windows '95, 98 or NT system (sorry but its not available for Windows 3.1 or MAC) you can now make over 100 million different hilarious faces at the touch of a button.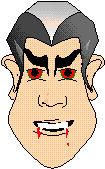 Like some FunnyFaces now? We've created 30 faces in groups of 10 which we have saved in Windows Metafiles (WMFs) format - all ready for you to download and use as clip-art on any Windows 3.1 or 95 system. You just need to register first.
See just what FunnyFaces can do with our free demo available now. The download is about 500kbytes. All you need to do is register first! So, if you haven't registered yet why not do so now for future downloads and further information. Register to get your free Demo, free Screen Saver and free Sample Files (no fuss, no fee - this site is free)!
---
More Information!!
---